We hire out a HUGE range of toys including slide sets, large ride on toys, construction, figurine play sets and doll houses, train sets, toy vehicles, baby toys, role play and dressing up, toys for playdough, sand and water play, board games, puzzles and even dvds. Phew!
Our target age range is from 6 months up to 7 year olds. Find out more about different play activities, some of the toys we hire that fit these activities...and what kids are learning when they play with these toys.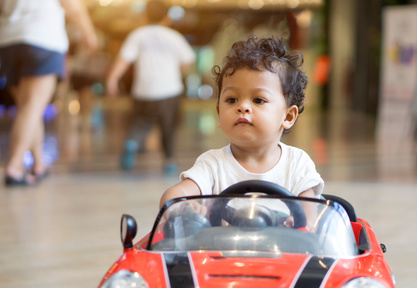 Toys which encourage kids to move their bodies, arms and legs help to develop muscles as well as hand eye coordination. The toy library hires an extensive range of toys which target physical play, many of which are large…hiring is a great alternative to owning as it saves both the expense and need for a lot of storage space.
---
Our physical play toys include:
Toys to get kids moving, such as bikes suitable from toddlers to big kids, scooters, pogo sticks, go-carts and a range of large ride on cars
Plastic slide sets
Kiddie 'rollercoasters' (tip: fun to hire for kids parties)
Toys to teach ball and coordination skills, such as basketball hoops and bean bag throw games
Babies and small toddlers are constantly exploring their new world, and toys are an important part of this. We hire toys which are suitable for children from about 6 months of age, including larger items like ExerSaucer activity stations. An important idea for babies to learn is 'cause and effect', for example, 'If I push this, this light goes on' or a toy pops up etc. We hire a large range of toys which help with this concept.
For older children, while toys involving scientific principles provide them with further ways of exploring the world around them.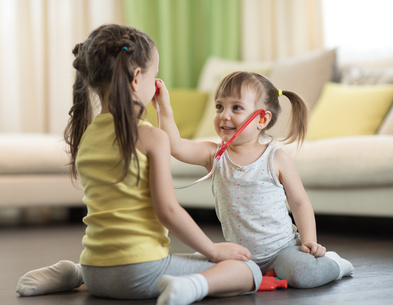 This type of play is all about kids' imaginations, although it helps to develop a broad range of skills such as language, motor (action) and emotional skills. Pretend play includes dramatic and role play – sometimes you may notice kids mimicking things they see at home (eg, playing Mummy/Daddy and babies) and other times it may be completely imaginative, such as pretending to be a superhero in a fantasy situation.
Our pretend play toys include:
---
Large toys for wonderfully real role play, such as kid sized toy kitchens, a large playhouse, supermarket counters, tool workbenches and BBQs
'Household' toy items, such as ironing boards, baby baths, beds and accessories, cooking pans, utensils and plastic food and shopping trolleys
A wide selection of dress ups
Puppet theatres and puppets
Train sets and other transport or garage sets
Playkits and sets with small figurines, such as a space station, dolls houses, playsets with well known character such as Dora and Winnie the Pooh and many many other settings such as castles, jungles, ambulances, schools etc etc. These are some of our most popular toys to be hired out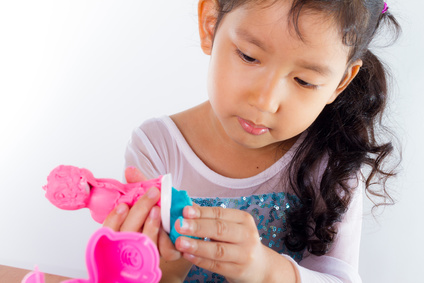 Creative play involves children using their bodies and materials to make and do things or share feelings and ideas help to further develop creative skills.
While toy library doesn't hire out sand or dough (not surprisingly!!), we do have toys which you can use at home with your own sand, water or dough, along with sets that tap into scientific concepts for exploration.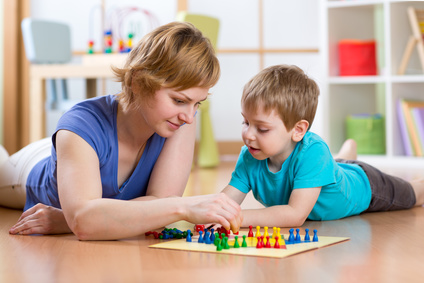 Games with rules help develop language skills, as children explain, question and negotiate with other players as well as helping to develop emotional skills around winning and losing.
We have a huge range of board games, many of which also address other educational concepts around numeracy and literacy. Come and check out old classics like Yahtzee and Memory as well as some new games that you've probably never seen before!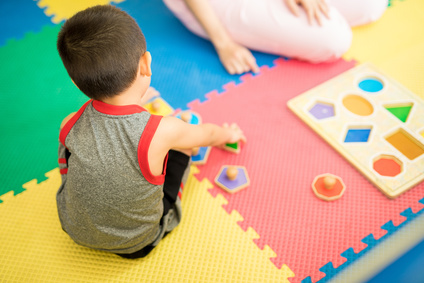 Puzzles are a resource that help develop lots of different skills at once: visual spacial and problem solving skills, as well as 'fine motor' finger manipulation to get pieces to fit the right place.
There are a great benefit to hiring, rather than buying, puzzles as children often move through 'learning' different types of puzzles reasonably quickly. By using toy library, you have access to many puzzles that are right at their level when they need them...without needing to then work out how to store them for the long term without losing pieces!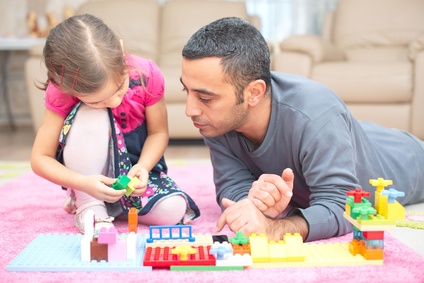 This type of play helps kids explore how the physical world works (aka, the influence of gravity when your tower goes off centre!), think about how best to fit things together and also develop the manipulative finger skills to fit the construction toys together.
There are many different construction toys that we hire, from duplo and megablocks to marble runs and K'nex.